Delight in our Woven Straw Handbags, where handcrafted design meets eco-conscious elegance. Sustainable and stylish.
Discovering Straw Handbags
Discover the Timeless Style and Diversity of Woven Straw Handbags
Straw handbags are an exciting and stylish addition to any wardrobe.
These lightweight, colorful accessories have been around for millennia, but their popularity has surged in recent years.
From the traditional woven styles that never seem to go out of fashion to trendy designs with bright colors and intricate details, woven straw handbags offer something for everyone.
There is so much more than just a typical beach bag when it comes to woven straw handbags!

The options these days range from bohemian-style crossbody bags with weaves inspired by vintage designs, fringed shoulder bags perfect for festivals or lunch dates, plus chic clutch purses suitable for weddings or nights on the town.

Depending on what you're looking for chances are there will be a style available that speaks directly to your tastes and preferences!
Finding quality craftsmanship is also easy when shopping around; each piece has its own unique character thanks to its handmade origins whereas no two pieces can ever truly replicate one another.
If you want something timelessly classic, opt to look through marketplace sites such as Etsy which often carry artisan designers who specialize in traditional weaving techniques passed down through generations over centuries around the world.
Whether you purchase a beautiful sisal creation from Morocco, a Volga from Ghana, a brighter macramé from Mexico, or shibori from Japan, there is a lot to pick and choose from.
When selecting items, make sure they come from highly respected sources of materials and are 100% natural and sustainably sourced.
In the best-case scenario, look for a kind that focuses its efforts on supporting the communities and countries where it is crafted, ensuring the makers receive fair wages and working conditions.
Eco-friendly & sustainable sourcing of materials
Unique handmade design using traditional woven straw handbag weaving techniques
Lightweight yet durable construction ideal for casual use or special occasions
An amazing array of sizes, shapes & colors suited to everyone's individual sense of style
Artisanal producers provide excellent customer service and shipping options
Traditional Woven Styles
Traditional Woven Straw Handbags
Woven straw handbags have been a staple in traditional styles for centuries, yet their appeal remains timeless and enduring.
From classic straw tote bags to a more structured shoulder bag with an antique-style buckle closure, these looks never go out of fashion.
Their natural materials and timeless shapes make them perfect for any occasion – whether you're taking a stroll in the park or hitting up some shopping downtown.
When it comes to traditional woven styles, details are key; note how intricately placed beads and shells embellish many bags!
While one design may be crafted with several strands of thin strips positioned side by side others might feature thick geometric ribbons arranged in unique patterns that look like works of art.
Fringed edges add another layer to each piece's distinctive visual identity while straps constructed from leather or rope provide functionality as well as beauty.
The substances used can also vary depending on the region where one is produced; wicker fibers from Europe often take center stage whereas reed weaves along with sinamay fabrics made from abaca plant fibers might dominate designs coming out of Asia Pacific countries such as Japan or Thailand respectively.
The result?
A diverse selection that alludes to both Eastern and Western cultures combining cultural influences together into something truly special!
Features of Woven Straw Handbags
Quality craftsmanship featuring intricate details such as beads & shells
Timeless shapes including totes & shoulder buckets
Natural materials like wicker fiber & reed weaves combined with luxurious fabrications like sinamay
Eye-catching fringes plus functional straps constructed using leather & ropes
Designs proudly displaying influences inspired by Western + Eastern culture
These woven straw handbags are truly unique and timeless.
With their intricate details, natural materials, and diverse designs, they are perfect for any occasion.
Whether you're taking a stroll in the park or hitting up some shopping downtown, these woven straw handbags will be sure to make a statement.
Embracing the Trendy Look of Woven Straw Handbags
Woven Straw Handbags: Lightweight and Durable
Shifting away from the traditional look and embracing something new is a great way to stay stylish.
The trendy look of woven straw handbags can bring an updated, chic vibe to anyone's accessory collection.
You don't have to spend a fortune on fashion pieces either; these bags are much more affordable than their leather or canvas counterparts.
One of the best things about this type of bag is that they come in so many different styles and sizes.

Add some character with cute tasseled designs or make it a bit more minimalist with woven hexagonal shapes and simple hues – you'll be spoiled for choice!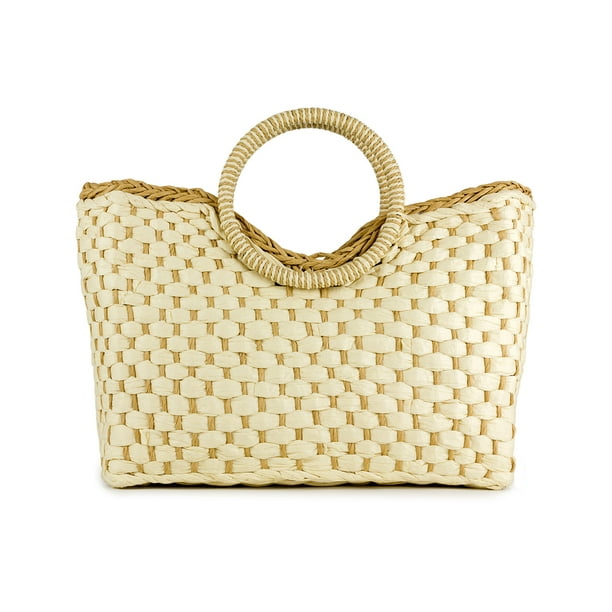 These woven straw handbags also tend to have roomier interiors compared to other styles, perfect for carrying all your essentials without having an oversized accessory weighing down your arm.
The versatile nature of these handbags means you don't need five different pieces in order to create multiple looks – vibrant-hued straw bags paired with anything from jeans & T-shirt outfits to dresses will do just fine!
They pair perfectly well in both casual situations as well as formal events, making them ideal if you want one go-to piece that always gives off subtle but fashionable vibes no matter what occasion it might be used for.
Here are some of the benefits of woven straw handbags:
Lightweight and durable
Variety in design options
Roomy compartments
Affordable price tag
Versatile enough even for special occasions
See more: The Ultimate Guide to Straw Woven Crossbody Bags for Summer
Necessary Styling Tips for Woven Straw Handbags
Choose Colors That Complement
When styling with a woven straw handbag, the key is to choose accessories that will complement yet not compete.
The beauty of these bags lies in their intricate weaving and texture. Therefore, it is essential to include added touches that enhance this feature.
First up, consider color when pairing items together for an outfit involving a woven straw handbag.
Choosing neutral shades like black or white are classic staples. They create harmonious looks that never go out of style. However, pops of color like pink or yellow can also elevate your look.
When selecting hues be sure to stay within one tonal range – think pastels against other pastels and brights versus bright – this helps avoid any potential 'clashing' disasters!
Always select colors/tones complementary in hue
Pattern Play
Next comes pattern play: stripes work perfectly with most woven styles but you could equally combine floral prints for romantic Summer vibes.
Try mixing larger-scale prints (like gingham) with small-scale ones (like polka dots) for maximal visual interest that won't overpower the natural detailing on your woven straw handbag; another great tip here is to opt for solid shades near the face area especially if you have bold patterns elsewhere in the ensemble thus avoiding distractions from what should be two standout features – namely YOU and THE BAG!
Here are some tips to keep in mind when styling with a woven straw handbag:
Harmonize sizes of patterns used
Maintain focus on textured detail on the bag
Choose appropriate footwear e.g.

sandals match the tropical vibe

Accessorise sparingly – earrings/bracelet etc
The beauty of these bags lies in their intricate weaving and texture, so it is essential to use added touches that enhance this feature.
Elevate Your Style with the Versatility of Woven Straw Handbags
Complete your sustainable and chic look with the Rattan Handbags from Earthy Charm. Handcrafted from high-quality and eco-friendly rattan, these bags offer a perfect blend of style and functionality. With their spacious design and sturdy construction, they're perfect for carrying all your essentials while making a statement. Check out the Rattan Handbags available and make a sustainable fashion statement that will turn heads wherever you go.
Matching Bags to Outfits
When it comes to completing an outfit, nothing pulls things together quite like the perfect bag.
Woven straw handbags come in a variety of options so you can match them with just about any sort of look.
If your style is traditional and you're aiming for something timelessly classic, then opting for a rectangular or structured shape with minimalist details will be best for you.
For more casual looks that are still stylish, slouchy bags have never looked better than when made from natural woven straws.
And if modern trends are your jam then round shoulder bags will provide some much needed texture and visually interesting appeal while remaining versatile enough to combine effortlessly into different outfits throughout the season.
The great thing about woven straw handbags is they add subtle visual interest without being over-the-top attention seeking; making them super simple pieces that manage to elevate even basic clothing combinations instantly!
When working around classy ensembles opt for tones like black or brown as well as geometric shapes that help keep the focus on other showstopping elements like fancy dresses or jewelry pieces instead of distracting away from that aspect by having too busy looking embellishments included in accessories choices; keeping all eyes exactly where it should be: On You!
Finally if playful locales such as beach days out calls for something fun but sophisticated these types of accessories tend skimp on neither quality nor style by providing offbeat adornment through eye catching prints clever pairings between hardware attachments and textures; making sure no matter who may pass there's only one person turning heads : YOU !
Here are some tips to keep in mind when matching woven straw handbags to your outfits:
Matching doesn't always mean the same color
Try mixing & matching patterns within neutral tones
Rectangular shapes tend to give more versatility
Slouchy designs aid a laid-back feel
Rounder shapes offer unusual detailing
Adding a Personal Touch of Woven Straw Handbags
Get Creative to Personalize Your Woven Straw Handbag with These Unique Touches
A great way to make your own woven straw handbag is with personal touches that you can add.
Whether it's an artisan touch or something more modern, there are plenty of ways to customize the bag and make it your own.
Here are three ideas for adding a unique flair to any woven straw piece:
Embroidery
Embellish your bags with custom designs, text, or patterns by stitching them onto the material using embroidery thread and needlework techniques.
Perfect for emphasizing particular colors in the look or adding traditional motifs like flowers and stars – the possibilities are endless!
Plus, this skill is relatively easy to learn so anyone could give it a try!
Beading & Sequins
Beads come in many types of sizes and colors which means they're perfect as accents on minimalistic designs like macrame bags – giving off just enough sparkle for a subtle glamourous effect yet also keeping things classy at heart.
You can even use sequin fabric alongside beading if you'd rather have extra sparkly detailing across larger areas too!
Leather Appliques/Patches: Adding leather patches (or appliques) gives some interesting texture contrast when placed against loosely knitted items such as bamboo baskets – making each item appear more luxurious than ever before.

Patches designed from smooth full grain cowhide looks particularly striking but veg tan goat skin has its place too; providing smaller curves into specific sections elevates plain weaves into dynamic 3D shapes quite quickly without having to invest heavily in new materials either!
Paint details onto fabrics with stencils or brushes depending on preference
Make tassel trims according to customized string lengths & color palettes
Stitch together multiple pieces together creating patchwork effects
Add cherry blossom floral prints using colorful inkjet transfers
Attach metal charms /stud finishes somewhere along zippers lines
Adding a personal touch with woven straw handbags is a great way to make your own unique style.
There are plenty of ways to customize the bag and make it your own.
Embroidery, beading & sequins, and leather appliques/patches are just a few of the ways you can add a unique flair to any woven straw piece.
You can also paint details onto fabrics with stencils or brushes, make tassel trims according to customized string lengths & color palettes, stitch together multiple pieces together creating patchwork effects, add cherry blossom floral prints using colorful inkjet transfers, and attach metal charms /stud finishes somewhere along zippers lines.
With these ideas, you can create a woven straw handbag that is truly unique and one-of-a-kind.
Sustainable Accessories of Woven Straw Handbags
Woven Straw Handbags: Sustainable and Stylish
Woven straw handbags are quickly becoming one of the most popular fashion accessories.
Not only are they beautiful, but they also have a range of other benefits that make them so attractive to customers.
Sustainable accessories such as these can be seen all over both traditional and trendy markets today.
When it comes to sustainability, woven straw handbags prove themselves by having an incredibly low carbon footprint compared to bags made from plastic or leather materials.
They're created with totally natural fibers, usually, cotton or jute which is derived from plants rather than animals – making them animal friendly too!
Straw material has also been found in some cases to last up to three times longer than synthetic resources used for their base structure, showing that investing in high-quality eco-friendly pieces is worth the price tag if you want something more durable on your arm without compromising style points!
The production process for these sustainable items puts zero waste back into our environment during its entire manufacturing cycle due mostly because the actual woven threads come straight from agricultural products like wheat stalks which require no additional processing before use; just simple harvesting and cleaning procedures meaning literally no environmental pollutants involved at all levels of creation here – giving this accessory collection a serious edge when considering how beneficial buying 'guilt-free' really can be!
Here are some of the benefits of woven straw handbags:
Have an incredibly low carbon footprint compared to bags made from other materials
Manufactured with natural fibers, usually cotton or jute derived from plants rather than animals
Has been found in some cases proven 3x longer lasting than synthetic resources
The production process creates absolutely zero waste
Investing in guilt-free Eco-friendly pieces will give accessorizing top style points
So, if you're looking for a stylish and sustainable accessory, woven straw handbags are a perfect choice!
Shopping for Straw Handbags or Woven Straw Handbags
Why Shopping for Straw Handbags is a Fun and Exciting Experience: Tips for Finding Your Perfect Bag Online or In-Store
Shopping for straw handbags is fun and exciting.
There are literally hundreds of styles, colors, and sizes to choose from that will fit your taste.
Whether you want something traditional or trendy, there's a woven straw handbag out there to match any wardrobe.
The best part about shopping for the perfect straw bag is being able to find one online quickly at an affordable price while still having access to customer reviews on quality and style before purchase.
Shopping online also gives you the opportunity to compare different stores so you can get the greatest selection possible in terms of size, color, and patterns like wicker weave or basket patterned designs as well as bohemian-style tassels or beading embellishments with variations on handles such as leather straps, loops, etc.
This way, no matter what type of look you prefer; it won't take long until you find exactly what fits your personality!
And if shopping online isn't your thing, stores may have even more choices when it comes down to picking up a beautiful handmade piece retail – where some companies specialize solely in creating unique pieces just like this one!
Making them ideal gifts if needs be too!
A few vendors offer truly special options tailored closely around particular occasions such as weddings, anniversaries, graduations, showering, birthdays, Mother's Day gift giving, friendship exchanges, housewarming parties, etc.
So, keep woven straw handbags within consideration, especially those with its corn husk materials, popularly known as palmyra fibers, which already makes these pretty iconic under most circumstances between serious enthusiasts alike across almost every cultural scene imaginable nowadays comparatively speaking anyway given their diligent strength & dependability against regular wear/tear effects & elements harshness over time respectively either way regarding functional specifics though.
Making the Final Decision
Read Reviews Before Purchasing
If you're ready to purchase a woven straw handbag of your own, it's time to make the final decision.
All that's left is selecting the perfect bag and then finding an outlet from which you can buy it.
Be sure to read customer reviews before making any purchases, as this will give you insight into terms of quality assurance.
If a particular vendor has numerous positive reviews for their handbags – either online or within customers' social networks – this suggests that they offer high-quality products that are worth buying.
If not, move on and find another outlet for your chosen woven straw handbag instead!
When possible, inspect samples of the bags at various outlets before committing to one venue or another; doing so allows prospective purchasers to compare qualities between different vendors firsthand and make more informed decisions about whom they select (and where).
Check out potential irregularities such as gaps in stitching or frayed fabric; these minor issues can render an otherwise beautiful product unusable down the line if ignored during selection processes like these ones!
Tips for Purchasing a Woven Straw Handbag
Read up on customer reviews prior to purchasing anything
Inspect any specimens available at other retailers
Compare prices between venues
Consider ease-of-shipping options
Pick carefully – small defects/irregularities may be present